About Praxis Center For Aesthetic Studies
Praxis Center for Aesthetic studies is a learning space for professional artists directed by Brainard Carey. All online classes come with support that is personal and will directly answer your questions.
Frequently Asked Questions.
Question: How do the courses work?
Answer: All of them work by subscription. It is a like Netflix or another service where you get monthly access to library of courses, only in this case, you also get personal questions answered in the private classroom that comes with a subscription to the courses as well as weekly live classes. A basic subscription to all the courses costs $40 USD a month for all the courses except the live weekly class and the Patrons and Sponsors course.
The VIP Membership is $59 a month and comes with all courses plus the Patrons and Sponsors course and plus the live weekly class where curators and collectors explain how they work with artists and their email contact is included.
You can cancel your membership at any time, and as soon as you join you will have full access to all the classes listed in the Course bundle that begins with
Getting Your Art Exhibited
. You can take the classes in any order you wish.
Question: Where can I buy Brainard Carey' Books?
Answer: Almost anywhere books are sold. He has written seven books for artists. The most recent book is - Making it in the Art World (you can get a signed version shipped by Brainard by using the links at the bottom of this page or a regular version anywhere else.
Question: Once I enroll, how do I get to the private classroom where you can answer my questions and where I will meet all the other artists in the class?
Answer: You will see the private link to join it in a letter you will receive as soon as you sign up. Brainard will also send a welcome video explaining it all.
Current books available from Brainard can be bought on amazon or other places online or you can get a copy signed by the author and shipped directly to you from this page.
This is how to get one, directly from the author.
Signed copy of the book, Making it in the Art World shipped anywhere in the U.S.
---
Paperback: 211 pages
Publisher: Allworth Press (April 19, 2022)
Language: English
Product Dimensions: 6 x 0.9 x 8.9 inches
(available on amazon and everywhere else, but not signed)
Signed copies of my new book!
Making It in the Art World, Second Edition, is an invaluable resource for artists at every stage, offering readers a plethora of strategies and helpful tips to plan and execute a successful artistic career.
Included is a thirteen-part workbook to help you formulate and execute a winning career advancement strategy, a process that will prepare you for navigating the art world successfully. Friendly chapters walk you through it all with topics such as:
• Evaluating your work
• Submitting proposals to museums and galleries
• Creating pop-up shows
• Doing it your way (DIY exhibits)
• Writing press releases
• Finding collectors online and connecting
• Using social media effectively
• Selling online
• Raising funds for projects
• Getting international recognition
This is a link if you want to buy one book shipped anywhere in the U.S. Click here or use the button below.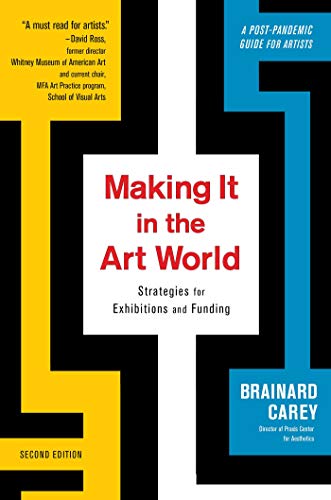 "In a remarkably useful guidebook for artists trying to find their way, the artist Brainard Carey has spelled out in a clear and concise manner a series of strategies and techniques that, taken as a whole, are the equivalent of that elusive course in real-world preparedness that most art schools gloss over or simply ignore. In addition to his thoughtful and thorough approach to the subject, Carey's candor and complete lack of cynicism and posturing makes this book a must-read for any emerging artist."
—David A Ross, chair of MFA in Art Practice, School of Visual Arts, and former director of the Whitney Museum of American Art

.